Dear Diary…
As a Blue Planet citizen, (or planitien), you get to see almost 2,000 stars if you're lucky. Let's talk about constellations, simply because stars are pretty. General definition of constellation: it's a group of stars forming a recognizable pattern that is traditionally named after its apparent form or identified with a mythological figure.
They are one of the sky's many compasses, guiding agriculturists, and mariners; before navigation systems, satellites, GPS and compasses, men relied on stars. Modern astronomers divide the sky into this gallery of eighty-eight constellations with defined boundaries.
The Constellation Leo
Think of the constellations as a way to map out the sky. For ancient astronomers, stars were fascinating twinkling objects they needed to understand. Evers since 1922, the IAU (International Astronomical Union), with the help of Henry Russell documented 88 different constellations, deriving from Ptolemy's work. Of course, different civilizations around the world meant different appellations and concepts for these constellations.
Twinkle Twinkle
Various things vastly influence the number of stars we get to see, including the moon (
less moon = more stars
) and pollution, whether it's light pollution, or just atmospheric pollution. Astronomers determine the illumination of an object using
magnitude
in decreasing numbers; a magnitude 3.0 object is brighter than a magnitude 4.0 object. The naked eye can only spot objects that have a 6.0 magnitude or less. For an infographic on the matter,
click here.

Apparent brightness in the magnitude system
Also keep in mind that the constellations viewed from Australia are different than those observed in Canada, simply because of your location on the Blue Planet; there are 36 constellations you can find while standing somewhere in the Northern hemisphere, and 52 constellations from the Southern Hemisphere. Think of the equator as a symmetry line, near-equator constellations can be seen from both hemispheres, for example, here's how you see the constellation Orion from different hemispheres:
Orion, from the Northern Hemisphere (right) and the Southern Hemisphere (left)
In every constellation, there's an α star, a β star, a γ star and so on. This is only to document the brightness of the stars, let's take for example, the constellation of Ursa Major, or the Big Dipper:
Ursa Major
Let's talk about the optical illusion fashioned by the constellation, as you look at it, you get the impression that these stars are like neighbors, each star sitting close to the other, this statement couldn't be more wrong. What you're seeing when you look up at the sky is a 2D imagery of a multi-dimensional reality. For example, Dubhe (the α star of Ursa Major) that has a magnitude of 1.8 is some 122.9 light years away while Merak, the β star has a 2.4 magnitude and is 79.7 light years away. Thus, these seemingly neighboring stars are 49.2 light years apart, and that's a lot of distance.
Now should be a good time to talk about asterisms. What's an asterism? It's a prominent pattern or group of stars, typically having a popular name but smaller than a constellation. So, basically, an asterism is a pattern of stars but it's not a constellation. Some are very well known, like Scorpius' fishhook, or at very center of our galaxy, the Teapot asterism, in the constellation of Sagittarius. Some asterisms can be a combination of stars deriving from different astersisms, like the summer asterism, that is formed by Lyra's star Vega, Aquila's Star Altair, and Cygnus' star Deneb.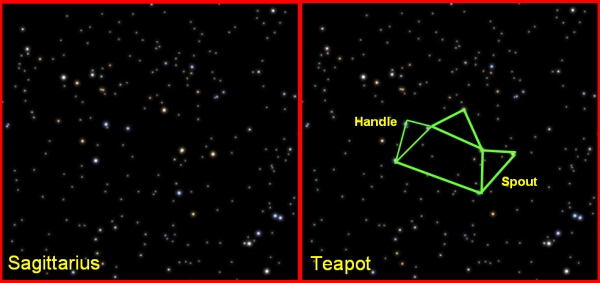 The Teapot Asterism in the constellation of Sagittarius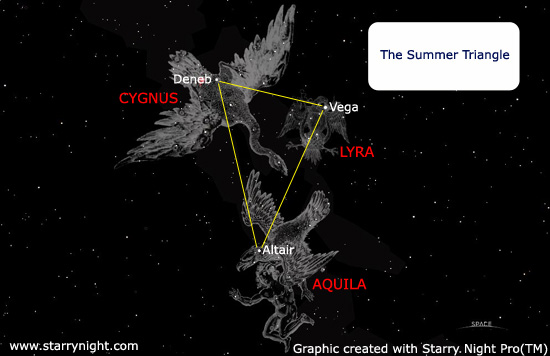 The Summer

Triangl

e
Some constellations are more popular than others, for instance, everybody knows the twelve zodiac constellations:
Twelve Constellations of the Zodiac
How do these things work? Why are you an Aries if you're born in late march, and a Taurus if you're born in early may? It's simple, the sun passes through all 12 of these constellations each year, during late march, the Sun is in the constellation of Aries, hence the sign. The same goes for each constellation so that no one gets left out.
Zodiac constellations along the Ecliptic
The problem is, there are 13 signs in reality. Why was the 13th zodiac constellation hidden, when in fact, when astrologers say that the Sun is Pisces, it isn't. The 13th constellation is Ophiuchus (The Serpent Bearer), and it's been removed just to make the math work even though both the celestial equator and the ecliptic pass through it; you see, there are 12 months in a year, and astrologers can't afford to have an extra constellation.
The extra constellation, Ophiuchus
Stay tuned for astro-articles focused on various constellations, until then, happy stargazing!
References and credits:
www.starrynighteducation.com